I got the call on a Wednesday afternoon that we needed to film the video the following Monday at Union Pool. I was lucky enough to get an awesome, hardworking last minute skeleton crew willing to spend Halloween weekend building sets and doing pre-production. Sean and Charlotte did all the historical costumes and took care of casting themselves, which made it possible to put it together so quickly. Below is a video filmed on the set and some story boards I drew. We had only 8 hours to load in and film every shot, clean up and load out before Union Pool opened to the public.
Making of "Shroedinger's Cat" Music Video from Jordan Galland on Vimeo.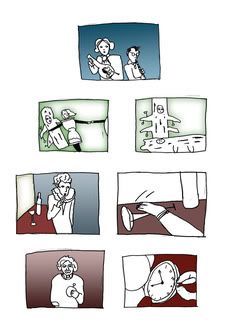 and here's the actual video...
The G.O.A.S.T.T. "Shroedinger's Cat" from Jordan Galland on Vimeo.